N2M2L presents: Hello Spring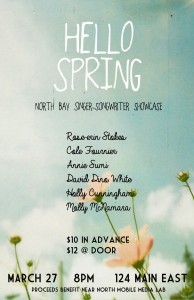 N2M2L is happy to announce our spring fundraiser event featuring the sounds of North Bay areas up and coming singer-songwriters. This intimate evening of music is sponsored by Steamwhistle and hosted by the media lab's own Holly Cunningham.
The evening will showcase music from:
Rose-Erin Stokes
Annie Sumi
Cole Fournier
Molly McNamara
Holly Cunningham 
Friday, March 27th
8:00pm (doors at 7:30)
Tickets are $10 in advance or $12 at the door. You can also purchase tickets online here.