Gallery Hop: July 18th
The next downtown Gallery Hop is set for Friday, July 18th from 7:00 to 9:30 pm.
Hop on up the stairs and stop by N2M2L for some snacks and a screening of feature-length Film "Ephemeroptera", in honour of North Bay's shadflies. The film, overseen by Dermot Wilson, came out of the N2M2L project "Cut and Run".
See you there! We'll have a red balloon and signage downstairs to help guide your way.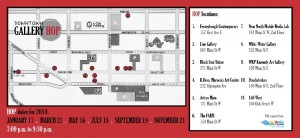 Posted on: July 7, 2014, by : Doyali