N2M2L Presents G.G. Laureate Gordon Monahan for Ice Follies 2014!
Near North Mobile Media Lab Presents
Governor General's Awards Laureate Gordon Monahan for Ice Follies 2014
For the Tenth Anniversary of Ice Follies, Near North Mobile Media Lab (N2M2L) is pleased to present, in association with Nipissing University's Department of Fine and Performing Arts, the 2013 laureate (Visual and Media Arts) of the Governor General's Awards. Monahan's on-ice installation will be the latest in a series of installations that he has completed across Europe, America, and Asia. His process involves the removal of the back panel of a donated piano and the attachment of 50-metre piano wires to the soundboard inside. Monahan then stretches these wires high up in the air and across to the shore. In previous cases, Monahan has attached the wires to tall buildings. For Ice Follies 2014, he will attach the wires to the gunwales of the Chief Commanda, which is dry-docked at the government wharf in downtown North Bay. After the installation is complete, he will leave a sound-generating device that will provide an ethereal and aeolian sound experience for our visits to the vastness of frozen Lake Nipissing, from the opening reception on February 15th until mid-March.
Aside from Monahan's installation, N2M2L will produce installations by regional contemporary-arts group, Aanmitaagzi, and a screening of performance artists from various Latin-American countries. This latter screening event will be held in N2M2L's 14-foot trailer, which will be parked out on the ice. This presentation is in support of the annual AluCine Latin American Film Festival in Toronto.
Gordon Monahan:
2013 Laureate, Governor General's Awards (Visual and Media Arts)
 Gordon Monahan's works for piano, loudspeakers, video, kinetic sculpture, and computer-controlled sound environments span various genres from avant-garde concert music to multi-media installation and sound art. As a composer and sound artist, he juxtaposes the quantitative and qualitative aspects of natural acoustical phenomena with elements of media technology, environment, architecture, popular culture, and live performance.
Beginning in the late 1970's, he created sound works using elements of natural forces and the environment, eventually constructing long string installations activated by wind (Long Aeolian Piano, 1984-88), by water vortices (Aquaeolian Whirlpool, 1990) and by indoor air draughts (Spontaneously Harmonious in Certain Kinds of Weather, 1996).
Of his work, Monahan has said, "My interest in sound originates from music because my artistic training is in traditional, classical music and pop music. In the last few years I've come across an interesting technical phenomenon, and that is to make motors vibrate with audio signals. The motor actually replaces the loud speaker. And I do this by sending audio signals into a large 500-watt amplifier, attaching a small electric motor to the speaker terminals at the amplifier. I've hung these electric motors on these long piano strings and that induces the audio signals to vibrate these long wires and you hear the audio signals coming out of the piano."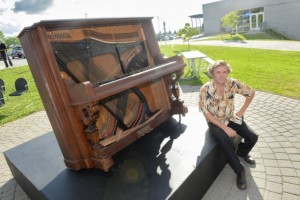 Further Information

 For further information about these projects or to get in touch with artists, please call N2M2L at 705-476-6402.

Ice Follies 2014 runs from February 15th, 2014 until mid-March. For more information, contact: Near North Mobile Media Lab at 705-476-6402; White Water Gallery at 705-476-4222; or Aanmitaagzi at 705-474-2227.

Posted on: February 6, 2014, by : admin